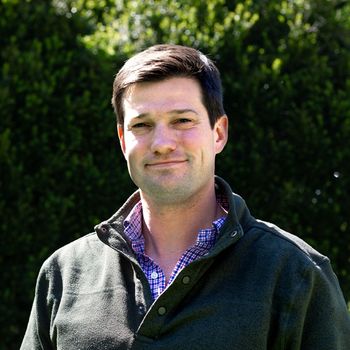 Dave Brannan, MPA
Director of Alumni Relations

Admissions and Outreach Support
Personal Approach
Dave has always believed in the power of the wilderness because he has seen firsthand the clarity and personal insight that can come from spending time outdoors. While he was growing up, his family would often make the short drive to North Georgia and spend time hiking and exploring the mountains. However, it was not until after college when Dave hiked the Appalachian Trail that he truly realized how transformative of an experience extended time in nature can be. During the four-and-a-half-month hike from Georgia to Maine, he had the opportunity to live simply and take an introspective look at certain areas of his life, removed from the noise and distractions of the "real world." This gave Dave a new outlook on what it means to be resilient, and he's found that there is no better place to learn about yourself than in the wilderness.
Not long after completing the AT, Dave began working as a field instructor at Blue Ridge. As a Senior Field Instructor, he was able to combine his passion for teaching and mentoring students with his admiration of the wilderness and the lessons to be learned through backpacking. He worked for two years in the field before taking on the parent coordinator position in the Blue Ridge Office. As Parent Coordinator, he had the opportunity to work closely with the families of the students enrolled in the program, and he found that being able to serve and assist those families was also an incredibly important and rewarding experience. After about a year and a half of working with parents as the parent coordinator, the move into the admissions department was a natural transition.
When working with families during the admissions process, one of Dave's first goals it to make sure that parents have a clear understanding of what this experience will entail, not only for their child but also for them as parents. He understands that many of the parents he works with are wrestling with a very difficult decision during what is often a chaotic period of time for their family. While this generally might be an uncomfortable time for parents, he wants to make sure that they are comfortable with their understanding of our program and what to expect during this process.
His hope is that the families he works with will find some reassurance in knowing that hteir discussion about the program and the answers to all of their questions comes from his first-hand knowledge and experience working in the field with the students. So much of what makes the wilderness a powerful therapeutic intervention is the experiential learning that takes place during the process. He tries to use his experience working with students in our program as a way to offer parents a glimpse into what their child's growth might look like while they are enrolled at Blue Ridge.
Personal Interests
Dave's wife, Kelly and he live outside of Atlanta with their dog, Lily. He loves all kinds of music and enjoys playing guitar with friends any time he gets the chance. He's also a huge sports fan and especially loves rooting for the Georgia Bulldogs and "tomahawk chopping" at Atlanta Braves games until his elbow is sore.
Education
Master of Public Administration, Valdosta State University
Bachelor of Arts, English/ Coaching and Leadership, LaGrange College