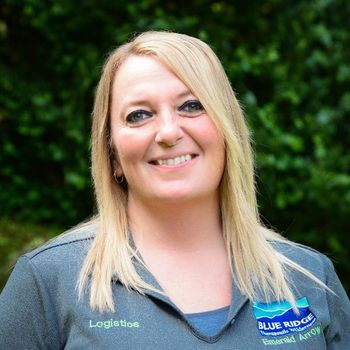 Tracey is a lifelong resident of Clayton, GA. Living in Rabun County has provided her with an expansive familiarity with Blue Ridge's field area; the Chattahoochee National Forest served as her childhood backyard, and she also had the pleasure of raising her children in the same way! She is happy to work in the same region where she played and raised her family. Since starting at Blue Ridge in 2012, Tracey has worked at BRTW for over 7 years in various departments including Transport, Laundry, and the Kitchen.
Over the last year, Tracey has trained with the Georgia Coalition Against Domestic Violence. During this time, she received many certificates and trainings, including Women's Health and Domestic Violence Advocacy, Responding to Survivor's Needs for safety, Crimes-Teen Relationship Abuse, Victims With Mental Health Issues, Victims With Substance Abuse Issues, and Victims of Violence with Sexual assault. She recently had the pleasure of training with OUR to complete the Signs of Human Trafficking Course. Tracey looks forward to bringing her skills and knowledge to the company as she grows in her position as Logistics Manager.
As the Logistics Manager, Tracey is responsible for:
Supervising the back-up system and being on call for all 24-hour emergencies
Arranging and managing all transportation of minors for in-company transportation needs
Supervising food systems, kitchen management and laundry services
Ensuring compliance with state regulations within the logistics department
Recruiting, interviewing, hiring, and training of all transport employees in a manner that produces a team that projects confidence, competence, and professionalism.
Tracey graduated from Rabun County High School Alumni Class of 1991. She continued her education, obtaining Certificates in Leadership Development and Office Technology through North Georgia Technical College. In 2016, she graduated from North Georgia Nursing Academy with a Medical Assistant Diploma.
Tracey and her husband Salvador have three Children: Salvador Jr, Bryar, and Sara. Salvador Jr. graduated with an Agricultural Degree and follows in his father's footsteps. Bryar is a Sophomore at Piedmont College pursuing a Masters in Education. Our Daughter Sara, is a Freshman at Guanajuato University where she is pursuing a Degree in Dentistry.