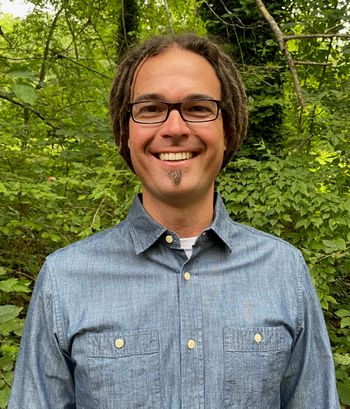 Tony Issenmann, Ph.D., LMFT
Director of Family Programs, Family Therapist
Personal Approach
I was born and raised in the Midwest, near Dayton, Ohio. From watching the diligence and perseverance of my family members, I learned the value of Midwestern work-ethic. Family has always been very important to me and it continues to drive my personal and professional passions.
Between high school and college I took a year off to study in Switzerland. Living abroad provided the opportunity to learn about others and myself through experiential and immersive practices. I did not know it at the time, but while studying abroad I was learning many valuable lessons that would benefit me when working with students and families.
After graduate school, I began working for a community mental health agency. I quickly became discouraged by the barriers presented in an outpatient, community-based clinical setting. Despite developing and implementing a family program, I found myself longing for a therapeutic setting that was conducive to more meaningful individual and family growth. I believe a nomadic wilderness model provides adolescents and young adults with an ideal environment for the immersive, experiential learning necessary for long-lasting change.
As a trained family therapist, I believe that to effectively help one member of a family (adolescent or young adult) the entire system (family) needs to be engaged. Furthermore, I believe that it is important for parents to learn, grow, and understand along with their child. While parents are often trying their best, the type of growth required for meaningful change does not happen without focused attention and coaching; parents need support and guidance to navigate the developmental challenges they are experiencing.
My clinical work is relational and my goal is to connect with family members in a way that allows me to help them achieve the goals they have for themselves. This often involves helping parents see past the present challenge(s) so they can work with the underlying patterns and create a value-driven relationship with their child. I hope to help parents understand what they can do to model healthy growth for their family system and in doing so reconnect with the hope that they once had (for their child and family).
Clinical Expertise
I have clinical experience working in a variety of settings including wilderness therapy programs, residential treatment centers, community agencies, a day treatment center for schizophrenic clients and family therapy centers. While I have worked with a varying population across treatment settings, the majority of my clinical work has focused on the parent-child relational system.
I have extensive experience working with families of adolescents and young adults who are struggling to successfully individuate from their parents. While the underlying reason for the struggle may differ, these students often present with issues of oppositional behavior, social withdrawal, substance abuse/dependence, ADHD, depression, anxiety, and emotional deregulation. Parents often feel confused, angry, helpless and powerless. I have assisted many families in shifting their family system from enmeshed/disengaged to one of healthy, balanced connection. My therapeutic approach is informed by both research and experience. Theoretically, I embrace experiential learning and utilize interventions from family systems, narrative, cognitive-behavioral, emotion focused, and choice theory.
Personal Interests
When not working, I enjoy being active. I love spending time with my wife and son, cooking, trail running, finding new podcasts, and I've recently discovered an enjoyment for cycle classes.
Education
Doctor of Philosophy, Human Development/Marriage and Family Therapy – Virginia Polytechnic Institute and State University
Master of Arts, Marriage and Family Therapy – Appalachian State University
Bachelor of Arts, German – Anderson University