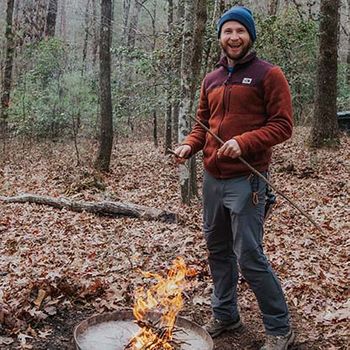 Luke
Luke has worked as a Field Instructor at Blue Ridge since 2018 and has worked in Transition Camp since Summer 2020. When graduating students come to Transition Camp, the days spent there are designed to prepare them for their family's arrival. Once the family is present, each day consists of typical camp chores as well as special groups and activities. These are designed by Transition Staff to help families practice therapeutic tools together, discuss their values, and ultimately reunite in a way that encourages vulnerability- before students are reintroduced to all the hustle and bustle of the "real world".
Luke loves the great outdoors as an "open office space" and working with graduating students as they reunite with their families during Transition. His philosophy in the field is to help ensure a safe environment via physical and social boundaries, which allows students (and their families!) a space to express vulnerability that might otherwise remain guarded and undisclosed.
Luke thru-hiked the Appalachian Trail in 2009–an experience he credits for giving him ample training in how to dry out wet clothes in the backcountry. He earned a Bachelor of Arts in Economics and Political Science from Emory & Henry College in Emory, VA.