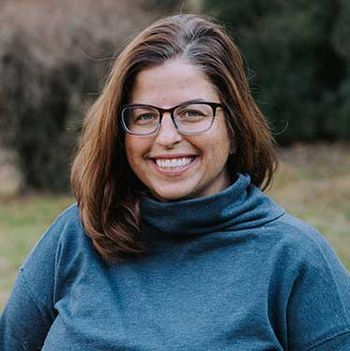 Heather Harvie, MS
Emerald Arrow Coordinator
Personal Approach
I moved from Nova Scotia, Canada, to the south when I was younger. Though the transition wasn't easy, I made friends in a Boy Scouts Venture Crew which kept me camping, backpacking, canoeing, rappelling, and laughing. The connections I made led to a deep love and respect for the environment and for the relationships developed during outdoor pursuits.
I spent several years as a field instructor at Second Nature Blue Ridge, beginning in 2009. I thru-hiked the Appalachian Trail from Georgia to Maine in 2013 with my dog (who was rescued from the Blue Ridge field area) and earned the trail name Wooden Spoon (a craft I learned as a field instructor). From 2014 until 2016, I worked in the office as the Parent Coordinator for Second Nature Blue Ridge, helping to bridge families, therapists, and students in the field. After a brief hiatus, I returned to Blue Ridge in 2019 serving as Field Coordinator and then Field Director, and now Emerald Arrow Coordinator.
As the Emerald Arrow Coordinator, I provide mentorship and guidance to field staff, bridge EA with all departments, and work with therapist Anne Wilzbacher as we continue to build the young adult program. My goal is to preserve EA program values and authenticity with training, development, and support for staff and program culture.
Personal Interests
I spend a lot of time hiking near Asheville with my husband and our dog, Gaia. I also love to express creativity through pottery, painting, quilting, and cooking.
Education
Outdoor Educator Certificate, National Outdoor Leadership School, 2004
Bachelors in Environmental Science, University of Alabama, 2004
Masters of Science in Sustainable Systems, Slippery Rock University of Pennsylvania, 2007