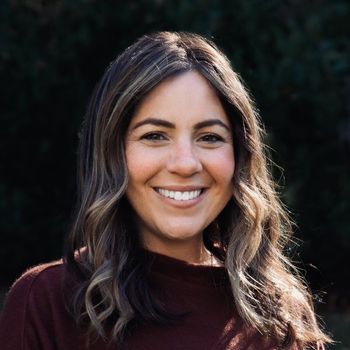 Personal Approach
For the last five years, Danielle has led the Blue Ridge team in developing and cultivating referral relations, overseeing the Blue Ridge Admissions department, and focusing on program growth and expansion as the Director of Business Development. With over a decade working in the mental health industry, she has gained a wealth of knowledge and elevated her pursuit for personal connection. As she responds to company and individual needs in the Executive Director role, she leads from years of experience as well as her comprehensive understanding of Blue Ridge Therapeutic Wilderness to uphold the program's mission of helping all individuals and families thrive.
After finishing her BA in Psychology at the University of Wisconsin-Madison, Danielle received her Master of Science in Clinical Social Work from Columbia University in New York City. Shortly after that, she earned her License in Clinical Social Work while fulfilling roles in the mental health industry. With over a decade in treatment settings, Danielle's clinical experience spans from working with adolescents and young adults to addressing whole-family systems. During this time, she also gained valuable experience in a variety of roles, including direct care, counseling, admissions, marketing, and program and leadership development.
Danielle has always felt passionate about helping people and listening to their stories. Her first experience in a clinical setting was working at an eating disorder clinic, where she learned firsthand the power of relationship, and how significant a support system was. Danielle worked as a clinician and in admissions at a therapeutic independent-living program in Boulder, CO that helped young adults transition from primary treatment to the real world. Most recently, she led the outreach and marketing efforts of a nationwide, community-based, wrap-around program for families. She understands the issues adolescents and their families struggle with, and believes that wilderness therapy can be a critical tool to jump-start their journey toward a healthy, meaningful life.
A natural relationship builder, Danielle is skilled at connecting with all kinds of people. Her experiences, relationships and rapport with referring partners are invaluable in ensuring the program's expansion, orientation of values, and prominence in the industry. Danielle has developed many referral relationships and enjoys traveling around the country and partnering with educational consultants who play a critical role in Blue Ridge's treatment with families.
Personal Interests
Danielle is a native New Yorker, born and raised on Long Island. Her family lives all over the world, so she has been lucky to travel extensively as well as live in different cities across the U.S. Hiking the Flatirons in Boulder, Colorado, exploring the foodie scene in Williamsburg, Brooklyn and rooting for the Badgers in Madison, Wisconsin have been some of her favorite adventures! In 2016, Danielle moved to Atlanta and she loves exploring the city by foot, visiting the beaches along the southeast coast, and spending summers on Lake Lanier with her sweet toddler Judah.
Education
Master of Science in Social Work, Columbia University
Bachelor of Arts, Psychology, University of Wisconsin-Madison