UPCOMING 2023 FIELD INSTRUCTOR DATES:
JULY 6TH-13TH
**$1,000 sign-on bonus**
Now hiring for full time positions
Field Instructors

Blue Ridge is proud to have developed a tight-knit community of highly-trained and compassionate wilderness professionals. Our staff is comprised of former wilderness students, individuals who are passionate about psychology or are in school for counseling, individuals who have experienced their own journey of recovery and healing, and more. Field Instructors work closely with students throughout each shift, reporting observations to the Primary Therapist— a number of whom were once Field Instructors themselves!
Field Instructors
Field Instructors at Blue Ridge are central to the growth and success of our students! Instructors live and work in the outdoors with a group of students and other staff for 8 days at a time. This role requires resilience, a passion for service, and an a desire to connect with others.
Our Instructors are professionals who develop a wide variety of skills: outdoor living, motivational interviewing, risk management, group facilitation, and mindfulness– to name a few. We emphasize a relational approach that provides students with the support, awareness, and skills needed to achieve their goals.
Simply put: Field Instructors are role-models for a healthier way of life.
We're thrilled you are interested in joining us! Please read through the rest of our website to learn about our program. Please contact our Recruiter by emailing careers@blueridgewilderness.com with any questions or to apply. You can also apply online here.
Warmly,
Why Blue Ridge?

Nobody can describe this experience better than our very own Field Instructor community. Watch to learn more.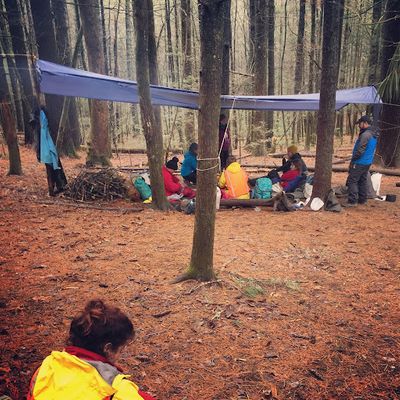 Blog: The Field Guide Experience
Gratitude. Serenity. Community. Transformation. Growth. Fulfilling. Tuna. Rain. Creativity.
These are just some of the words my peers use to describe the work we do. The field guide role is challenging, unique, gratifying, and difficult to accurately explain. Read More ➔
Who We Serve & Our Mission
Blue Ridge serves youth ages 13-18, young adults ages 18-29, and their families. Families or individuals may seek us out for a variety of reasons: anxiety, depression, substance abuse or other addictions, coping with loss, and many other challenges. Our Mission is to teach individuals and families the skills needed to be aware of and act on their values.
Whatever the circumstances, our approach starts with curiosity, empathy, and mutual respect. We believe that if our students can better understand themselves and their choices, they'll be better equipped to make safer, healthier decisions in the future.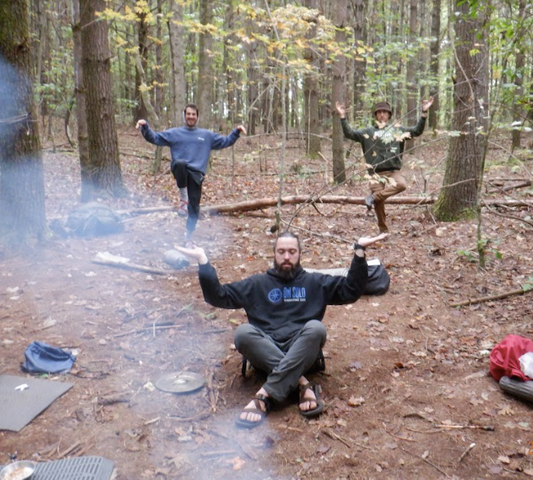 What Makes Blue Ridge Different?
You should consider us if you:
Get excited about backpacking, exploring, and working outdoors.
Want to learn from experienced, well-respected therapists, supervisors, and owners who know what it's like to be in the field-- because most of us were!
Believe that a consistent track record (20 years) of excellence, safety, and service matters.
Believe in a relational approach that honors the individual and seeks to identify and grow a person's strengths.
Believe that an owner-operated program, rather than a corporate one, better matches your values and gives you, students, and families the best chance to truly thrive.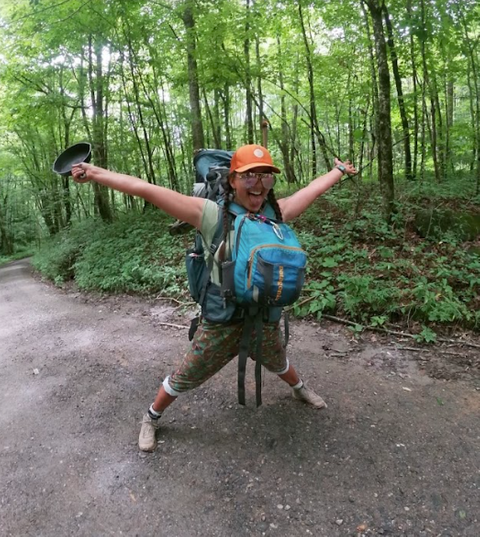 Field Instructor Duties
As a Blue Ridge Field Instructor, you work as part of a team. In a typical week, 3 or 4 Instructors will be with a group of 6-12 students. While working, staff live outdoors, with their group, 24-7. We are primarily a nomadic program, meaning we embrace the wilderness aspect of wilderness therapy by continuously staying in an outdoor setting. Unlike some other programs, most of our students are driven to and from a base camp each week– meaning more time with nature.
First and foremost, Instructors are responsible for managing the physical and emotional safety of each student and the student group as a whole. Field Instructors also play an integral role in delivering our curriculum and helping students see the connections between their thoughts, feelings, and choices.
While working in the field, Field Instructors can expect to backpack, sleep under tarps, cook meals over a fire, practice Leave No Trace ethics, administer medication, provide 1st aid as needed, and generally teach students how to practice healthy self-care and self-reliance. In addition, staff demonstrate healthy boundary-holding and communication skills. You'll lead group discussions, games and initiatives, and complete written reports of how each student is doing every week. Our dedicated staff are with students to provide support during their most difficult moments as well as their biggest accomplishments!
We invest heavily in ongoing staff development. Each Field Instructor at BRTW participates in a week long, experiential training prior to hire, and is mentored by therapists and other senior staff during their entire employment. We also provide weekly ongoing education to staff that covers a variety of clinical and risk management topics. There is opportunity to advance as a Field Instructor, and we often hire internally from our current staff who are seeking growth in the program.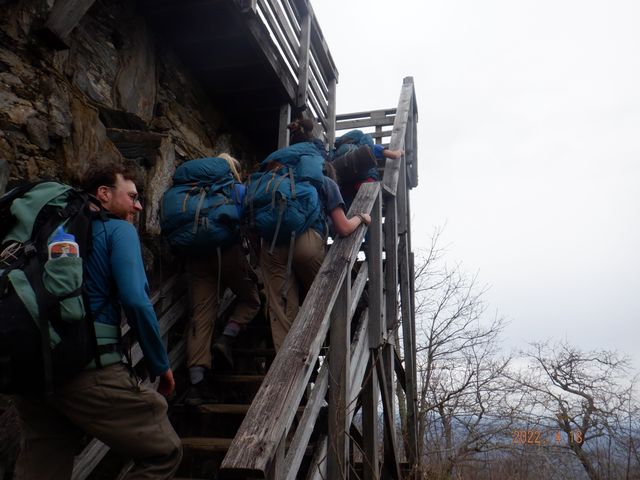 Schedule & Logistics
Field instructors work an 8-day on, 6-day off schedule (typically working Tuesday-Tuesday, and then off Weds to the following Monday). For the entire 8 days, instructors camp and live with the students in a wilderness setting. Blue Ridge provides all necessary group gear and emergency/ safety equipment. Instructors are expected to provide their own personal gear to keep themselves safe, comfortable, and effective while on shift.
Your 6 days off are yours to use as you please. The only requirement is that you are back and ready to work your next scheduled Tuesday morning. Staff accrue 2 weeks of PTO per year– and when Instructors take a week off of work, they suddenly have 20 days off in a row off– plenty of time to rest, travel, and pursue your own adventures!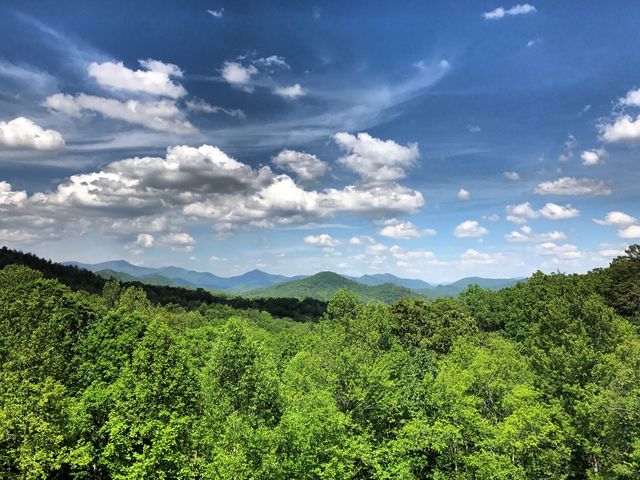 Location & Field Area
Our headquarters is in Clayton, GA. Clayton is a small town that provides direct access to our field area. Most staff reside in Asheville, NC, Atlanta, GA, Greenville, SC, or Clayton itself. Staff are free to live wherever they choose, however Blue Ridge is not able to provide staff housing. During their off time, Instructors often get together to climb, paddle, or hike the trails around North Georgia and Western North Carolina.
Our field area spans the southern Appalachian Mountains and includes portions of the Chattahoochee-Oconee and Nantahala National Forests. The field area is forested with rolling hills, rising to ~ 4,700 feet. There are several waterfalls, historical sites, and scenic overlooks within the field area, including Rabun Bald, the second highest peak in Georgia.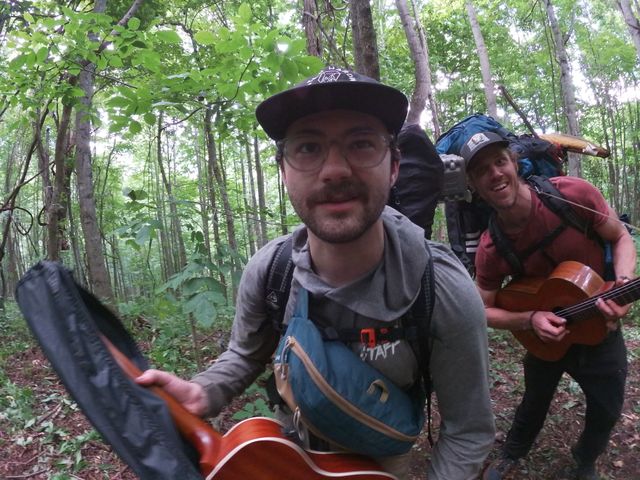 Compensation and Benefits
Field Instructors receive the following:
$1,000 sign-on bonus! ($500 with First paycheck and another $500 with Third paycheck for permanent hires. For seasonal hires, the second payment is added to the Fifth paycheck.)
Base pay ranges from $150 per day for new staff to $215 per day for our most experienced Instructors.
Wilderness First Responder (WFR) paid for.
Benefits such as health, dental, and vision insurance start the 1st of the month after 60 days of employment.
Field Staff accrue up to two weeks of PTO per year (and can usually receive more time off, if requested with appropriate notice).
Access to pro-deal gear discounts with your first pay stub
Ongoing yearly bonuses (Eligible for $1,700 at the 1-year mark).
Eligible for a 4% match in a 401k after one year of full-time employment.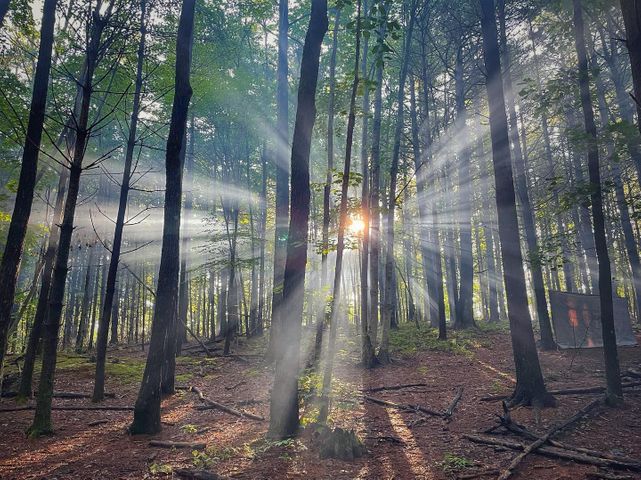 To Apply
Please submit a resume and cover letter to careers@blueridgewilderness.com, or upload them here. In your cover letter, please speak to your interest in, and qualifications for this role.
Application Requirements
Minimum of 21 years old
Obtain a physical stating you are cleared to do this work (we provide a form to be completed to those attending a Training)
Pass a State and Federal criminal background check (BCI) (Blue Ridge will provide on the last day of Training)
Pass a pre-employment drug screening (Blue Ridge will provide on the last day of Training)
Prior to official hire:
Reference checks for three references
1st aid & CPR certifications
Provide a copy of your diploma or official transcript from your highest education achieved
Beyond these basic requirements, we are also looking for staff who:
Demonstrate a track record of service and care for others
Are comfortable living and working outdoors, even if they are not yet 'experts' (we can teach you!)
Show a willingness to learn and grow
Develop resilience and align with Blue Ridge's mission and approach
After You Submit Your Resume & Cover Letter:
Expect to hear back from us within one week.
Interview - Typically about one hour and over the phone. We ask that you come prepared to speak to your previous experience, skills that aren't captured by a resume, and key questions you wish to know more about as well.
Follow-up - If we're missing documents or have follow-up questions we may reach back out to you.
Invitation to Training - Our Training acts as a second, extended interview. We believe it is a mutual interview in which you get to determine if this work is the right fit for you, and we get to determine if we believe you're ready to take on this work as well. While an invitation to Training does not guarantee a job offer, we do not 'play the numbers'. If you are invited to Training, it is because we believe you have potential to do great work, and there is a spot for you with us!
Training - Our Training period lasts seven days, typically Friday through the following Thursday. During training, you will get to experience what life is like in the field, day-to-day. We will teach you outdoor living skills, review program policies, and learn about therapeutic tools we expect of any new staff. We will give you the opportunity to teach and to show off what you already know. You will get to know us. Most of all, we will get to know who you are and see how you handle challenge, feedback, and growth! Official job offers will occur on the last day of Training.
More information will be provided if invited to Training.
Schedule - If you are offered and accept a role with us, you will work with the Field Directors to plan out your schedule and fulfill the rest of the HR requirements prior to your first shift in the woods!
Want to learn more about wilderness therapy?
We invite you to explore any of the following options:
Check out the podcast, Stories From the Field: Demystifying Wilderness Therapy with Will White. In particular, check out the episode with Anne Wilzbacher, our therapist for Emerald Arrow, Blue Ridge's young adult program.
Find a copy of Adventure Therapy: Theory, Research, and Practice, a useful resource about wilderness therapy composed by two of the leading researchers in our field.
Want to know more about the effectiveness of wilderness therapy and how it works? Check out the Outdoor Behavioral Healthcare Center's research page here!
Finally, read Blue Ridge alumni parent Dawn McCord's memoir, "Chasing Carson: A Family's Journey through Adolescence, Addiction and Recovery" or listen to her interview with Dr. Will White on his podcast, Stories from the Field.