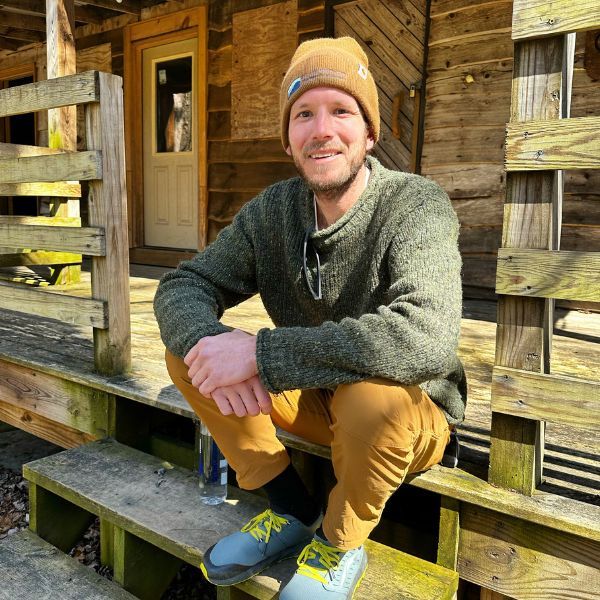 Q&A with Justin Messinger, MA, LCMHC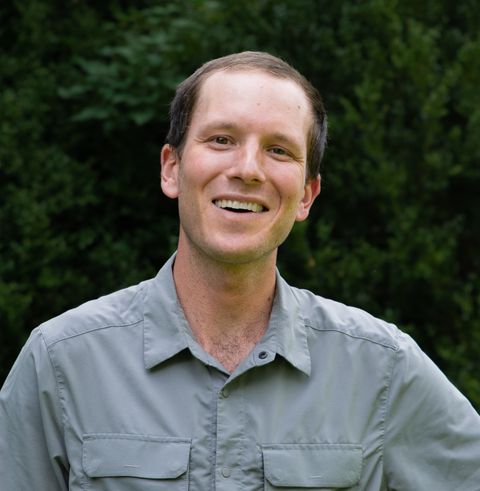 Tell us about yourself. What's your background? How did you come to work at Blue Ridge?
Originally, growing up in a small rural town in south east Wisconsin, I remember loving the outdoors and spending time in nature. My family moved to southwest Florida when I was in 4th grade to (another) small town, famous for its environmental conservation, where I was able to continue exploring, playing and simply being in nature.
One summer, several years later, I attended a summer camp in Western North Carolina. My experience at summer camp impacted me in a profound way. I developed a special connection to the mountains, to what it means to be part of a community and the value in adventure. I returned to the same camp every summer for the next 10 years where I eventually became a counselor and the program director.
Through my experiences as a camp counselor and director grew a passion for working in the outdoors, working with people and a vocation centered in providing children and adolescents with meaningful, adventure-based experiences.
It was on one of my own adventures, a final trip before I started graduate school, hiking through the Sierra Mountains, that I first heard of the concept of "Wilderness Therapy". I was enamored by a treatment modality that could be both so simple, yet complex and nuanced at the same time. I made it my mission to obtain a clinical internship in wilderness therapy and ultimately connected with Trails Carolina. Over the course of five years I worked as a clinical intern, clinical assistant, family therapist and primary therapist. I spent intentional time listening and learning about all of the many crucial working parts involved in the wilderness therapy model. The more I learned the more eager and curious I became.
What's the typical student profile in your group?
The students I work with typically struggle to form and maintain healthy, connected relationships. Students often have a history of experiencing a variety of difficulties in school and/or home settings that impact how they see themselves and what they are capable of achieving. It is common for students I work with to struggle with some degree of anxiety or depression and have unique (and often exceptional) learning styles. A common theme I find in working with my students is a difficulty understanding "what they need to work" and needing support developing insight in order to make the change(s) they need to get back to living in accordance with their values
What would you consider to be the power of Wilderness Therapy? Why do you choose to work with adolescents in the wilderness, specifically?
The more time I spend working in wilderness therapy the more I realize that distance and difference is what my students need to make connections they've struggled to make at home. Coming from a place of personal and professional experience, I believe that mother nature and "natural consequences" are the ultimate teacher, especially for adolescents.
What keeps me inspired about working in wilderness therapy is the model where students discover what it's like and what can happen when they feel truly accepted and offered the gentle reminder that they do belong.
The sense of community and togetherness that is created within a wilderness group is a beautiful unfolding to witness. The growth and empowerment that takes place as a result of needing to come together, work together and be together is why I chose to work in wilderness therapy.
What's your personal approach as a therapist? Are there any specific modalities that you use? What are your areas of expertise?
My approach as a therapist is to embody the practice of "meeting a student where they're at". I firmly believe that a person needs to be seen, understood, spoken to and challenged in a way that is aligned with their unique needs, strengths and readiness to change.
In terms of therapeutic modalities, I utilize a person centered approach with elements of motivational interviewing and emotion-focused techniques. I specialize in working with individuals whose neurodevelopmental differences impact their social-emotional learning and functioning. I implement a variety of social skill development strategies including milieu therapy and social thinking theory. Due to the prevalence of trauma my students have (often) experienced, I also provide trauma-focused interventions and am trained in Somatic and Attached Focused EMDR.
Can you talk a little bit about how you build relationships with your students' parents?
One of the greatest lessons I have learned through the years of working with adolescents is that in order for real, long lasting change to occur both the student and their family system need to be open to and ready for change. I have an immense amount of empathy and compassion for the parents and the entire family system of the student in my care. I approach establishing and building my relationship with parents from a place of unconditional positive regard, warmth and recognition that (much like my students) they are doing the best they can with the tools they have. I meet parents where they are at, stay continuously curious and make efforts to be compassionately direct when needed in order to support the growth of the student and the entire family system.
What does the word "success" mean to you?
Success to me means difference. So often I work with students and parents who feel stuck. Patterns of relating, communicating and attempting to connect stop working and lead to feelings of frustration, hopelessness and fear. Success to me looks like students and parents (when ready) getting out of their comfort zone and taking emotional risks that lead to creating new patterns, more connection and healthier relationships.
What do you do in your free time? Where can we find you when you're not here in Clayton?
When I am not in Clayton you can find me outside in the beautiful mountainous region of Western North Carolina. I have a passion for backcountry fly fishing, exploring new places and (sometimes) catching fish. I am a proud uncle, brother, son, partner, friend and mentor/mentee, so I also enjoy traveling and spending time with these family and friends.