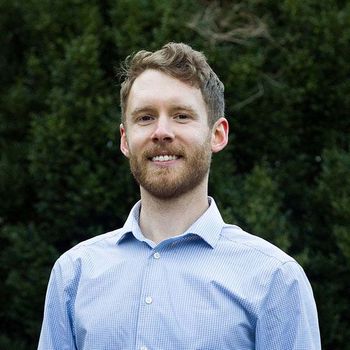 Tim Riewald, MA, LCMHC
Primary Therapist
Adolescent Boys 13-18
"Conveying a core message of compassionate acceptance and curiosity is the foundation of my approach."
Personal Approach
I believe my life's work is to help those who have forgotten to remember that the world is beautiful. My passion is in personally connecting with the adolescents with whom I work, and I believe that by serving as a mirror for their inherent wisdom, they will begin to tap into their deepest reservoirs of strength. After working with adolescents for years, I am continually inspired by the resilience, humor, and idealism that is so characteristic of this age group. I have developed an approach that is eclectic and focused on the here-and-now, relying heavily on the immense power of the group milieu. I regularly use expressive arts, natural objects in the wilderness, psychodrama and mindfulness techniques in order to creatively adjust to what my clients need. Many of my clients in wilderness are dealing with immense amounts of shame, confusion and low self-worth. For this reason, conveying a core message of compassionate acceptance and curiosity is the foundation of my approach. I am humbled and privileged to be a part of this sacred work.
Strengths + Clinical Expertise
I specialize in the treatment of adolescents with attachment issues, chronic shame, anxiety and depression. These issues often tie in to varying levels of substance abuse. I utilize the peer milieu in therapy sessions by encouraging clients to creatively experiment with new ways of meeting their relational needs in the moment. My clinical approach varies depending on the needs of my client, but my theoretical approach is rooted in Mindfulness, Motivational Interviewing, Choice Theory, and Internal Family Systems.
I was a Field Instructor at Blue Ridge for three and a half years, which heavily informs my understanding and creativity in this work.
My focus of study during graduate school training was Addictions, and I earned a certificate in Addictions Counseling. I completed my Practicum and Internship at the University Wellness Center in Boone, NC, treating college students with alcohol and substance abuse issues who were mandated to receive treatment by the school.
Many of the college students I worked with were in fraternities and sororities, and initially had no desire to change. I gained my Motivational Interviewing chops in this context, building alliances with "resistant" (read: ambivalent!) substance abusing clients, and guiding them toward positive change in their lives. When treating addictions, my stance is rooted in motivational interviewing and mindfulness.
Theoretically, I employ Acceptance and Commitment Therapy (ACT), which significant research shows to be the most effective clinical approach to treating addictions in adolescents. I look at an individual's substance abuse systemically, and seek to explore the values that lie beneath the abuse, and the interpersonal blocks to intimacy that prevent them from truly connecting with those around them without substances. I often uncover shame that has fueled years of unhealthy coping and substance abuse, and it is my work to help them build the courage to arrest the damaging cycle of shame and avoidance/numbing. Many of my students are the "identified patient" in their families, and I believe that working with the family system to uncover and alter patterns that perpetuate rigid roles is critical. I believe that chronic shame arises from the misattunement of primary attachment figures, and I aim to help let some light into those most painful areas, diminishing shame's penetrating and elusive grasp on one's self-esteem.
Personal Interests
I am passionate about so many things, so it is hard for me to narrow it down! I love playing music in its many forms, whether that be jazz, electronic music, or sludge metal, I just want to make some noise. I spend as much of my time outside as possible, and mountain biking is my favorite way to play in the mountains. Practicing yoga has taught me to be more present with my experience, whether it is pain or bliss. I also love to cook great food with my friends, and I am a bit of a bookworm constantly reading something.
Education
Master of Arts, Clinical Mental Health Counseling – Appalachian State University
Bachelor of Arts, Psychology – Miami University