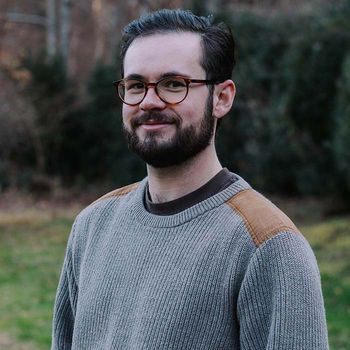 While studying at Rutgers University Tom found a research article that described the benefits of exposure to nature. Prior to that moment he had little interest in the outdoors and much preferred his video games and comic books. Through further research and pushing himself to be outdoorsy, he learned first hand how beneficial the wilderness can be. After graduation, Tom spent some time working in a residential treatment center but found the setting felt too cramped and restrictive. It was then he decided to pursue a dream of working in a wilderness therapy setting.
Tom started here at Blue Ridge in the summer of 2018 as a field instructor. He is grateful that he was able to learn so much about himself while working in the woods while also being able to teach communication and coping skills. His favorite coping skill to teach though was by far bowdrilling, often challenging the group members to competitions. After taking some time off to study for the GRE Tom came back to Blue Ridge except this time working mostly indoors in the role of Academic Coordinator. As Academic Coordinator Tom helps our adolescent students achieve educational success during their time here while also bringing awareness to the benefits that nature can have on attention and focus. Tom still gets to visit students in the field and support them in with the academic curriculum.
Personal Interests: During my time off I enjoy camping, video games, and as of recently white water kayaking and rock climbing.