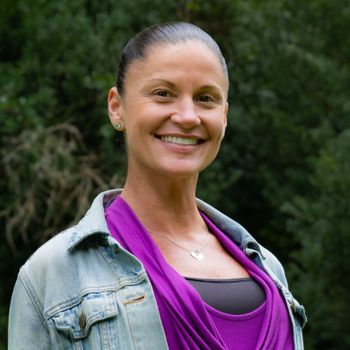 Nicole Borth
Health and Wellness Coordinator
"A walk in nature walks the soul back home." -Mary Davis
"The secret to change is to focus all of your energy, not on fighting the old, but on building the new." -Socrates
I oversee all things related to Health and Wellness in the organization to include nutrition, physical movement, mindfulness, meditation, sleep hygiene, and basic self-care. Along with facilitating staff trainings around nutrition, I also strive to educate and support students about cultivating healthy habits and understanding why they are so important to their wellbeing. I am responsible for monitoring all of the food that is sent to our students in the field to ensure that it is nutritious and supports our physical and mental wellbeing.
Our goal here at Blue Ridge is to promote self-care through awareness of what we put into our bodies. I am an E-RYT 200 yoga instructor, certified nutritionist and certified personal trainer. I bring yoga, mindfulness, exercise, and nutrition education to all of the groups. You can find me guiding mindfulness and yoga in the field and at parent workshops.
Practicing yoga, meditation, and mindfulness resonates with my soul. I am honored to teach and support these skills and practices to those interested in learning. I feel that nurturing and building a strong relationship with Self, is of utmost importance to One's mental, physical, and spiritual well-being.
I am a lover of nature and found my home, in Rabun County, Georgia, on the Chattooga River, as a river guide, many years ago. I feel more connected, here, in nature and on the river, than I ever have in my life. I've traveled to and lived in many places, all the while, knowing I would return, and this land is my home. Rabun County is my playground. There is so much to do here: I love mountain biking, hiking, backpacking, and camping. I also enjoy stand up paddle boarding and practicing SUP yoga. I love animals and have a little sweet & sassy cat named River.