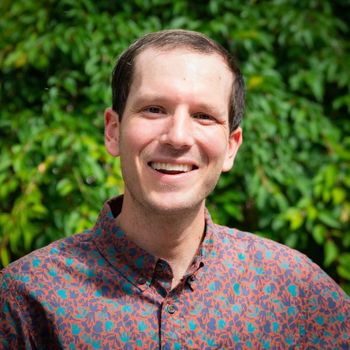 Justin Messinger, LPC
Primary Therapist
Adolescent Boys, Ages 13-18
Personal Approach
I believe that all of us are doing the best we can with the tools we have. Today's world presents adolescents with unique challenges (from technology to complex social stressors) that often leave them feeling overwhelmed, misunderstood, lacking a sense of identity or belonging. I believe a fundamental part of my work is not only to seek to understand the students, but also to recognize their strengths and provide them the tools so that they can begin to see them too.
In my personal life and professional career, I have felt the power of spending time in nature. Simply living outdoors (getting regular sleep, sunlight, nutrition, water, etc.) will calm a person's nervous system and quiet the mind. I believe this foundation of health, safety, and simplicity is what empowers a person to go within and begin to build a relationship with themselves.
Wilderness Therapy creates a profound sense of belonging. It challenges students to navigate and maintain healthy peer and adult relationships and instills a newfound sense of what they can accomplish. It is so inspiring to hear someone say, "I can do hard things,", or "I do belong" for the first time. Being in the wilderness shows a student concretely where their strengths and growths lie, and why it is important to be aware of both.
Clinical Strengths and Areas of Expertise
I specialize in providing treatment for adolescent boys with neurodevelopmental/learning differences. These adolescents may struggle with social communication, executive functioning, cognitive rigidity, and interpersonal relationships. These struggles often leave them feeling isolated, insignificant, stuck and frustrated with lack of connection or belonging.
Living in a small communal group of peers, out in nature, provides a student with countless social interactions and I am able to help turn those into teachable moments. Wilderness provides a safe container within which they can practice social problem solving, reading nuanced social cues, perspective taking, and build social confidence.
My clinical approach is rooted in providing individualized care, helping students feel understood, and showing them warmth, empathy and genuineness. I implement motivational interviewing, social skills training and forms of experiential therapy to create concrete opportunities for learning and success.
Prolonged social difficulties or chronic disconnection can result in trauma. My clinical approach is fundamentally trauma-informed. I understand how unprocessed trauma is often a foundational "piece of the puzzle" that keeps students feeling helpless/stuck. I am trained in Somatic and Attachment-Focused EMDR, a form of therapy that helps a person identify and heal from experiences that have reinforced unhelpful beliefs about themself. Resolving trauma is a powerful way to supplement the healthy identity formation that is already happening in wilderness.
I have worked in Wilderness Therapy for six years in various roles–clinical intern, family therapist, primary therapist, and aftercare transitional support coach. Throughout the years working with adolescents and their families, I have come to know that change does not happen in a vacuum. In order for lasting change to take place, a family must wholeheartedly participate in the process and be open to healing as well.
Although distance and separation is hard, it offers a unique opportunity for each family member to gain perspective, clarity, and gratitude. My intention is to be direct with students and family members about unhelpful patterns and the ways in which shifting those will foster more closeness and connection.
Personal Interests
"Going to the Mountains is going home" -John Muir. After growing up in tropical Southwest Florida I decided to make the Blue Ridge Mountains the place I call home. I am passionate about adventure and exploring whether I'm searching for remote native trout waters or long distance hiking, the natural wonder of the great outdoors is what feeds my soul. On the weekends I enjoy mowing the lawn, fly fishing with my partner and spending time with my (recently certified) therapy dog Marty.
Education
Master of Arts, Psychology: Clinical Counseling- The Citadel, Charleston, South Carolina
Bachelor of Arts, Psychology: Child Psychology- The University of North Florida, Jacksonville FL
Bachelor of Arts, Spanish- The University of North Florida, Jacksonville FL